In an age of electronic communication
,
paper documents and signatures handwritten with ink are still the way most business is transacted. Civil and criminal legal cases, domestic and business disputes and other controversies hinge on alleged irregularities in checks, wills, contracts, insurance policies, deeds, and other questioned documents. This is the realm of the forensic document examiner.
Forensic Document Examination relies upon a combination of principles used successfully for the past century, and techniques and technology that are at the leading edge of 21st century science. This Web Page explains some basics about the work of forensic document examiners and handwriting identification experts. While this web might be of primary interest to attorneys and clients with suspect documents, there is much here of general interest. For an overview of this profession, study the
FAQs
, typical document examination
applications
, and basic
theory
about handwriting identification. Learn about
optical microscopes
, and try to identify the mystery images. See how different
print processes
are identified and how
faded writing
can become visible. Tour a forensic document examination
laboratory
, read about famous document
cases
, or see a
sample report
or an article about handwriting samples. If you have a document problem that requires an expert document examiner, please consider my
CV
or visit the
contact
page.
For a literature search on document examination, there is The QDE Index, and if you want to purchase illuminated
magnifiers
or
infrared/ultraviolet
document examination equipment, it is just a click away . You can also learn about proficiency testing. So enjoy what this document examiner has prepared for you, and please email your comments to
ewill@Qdewill.com
.
NEWS:
UPDATE
of the 2004 60 Minutes/Bush National Guard Documents News Story
NATIONAL HANDWRITING DAY
January 23, Every Year
National Handwriting Day was the invention of the Writing Instrument Manufacturers Association (
WIMA
) and was inaugurated to remind us of the importance of Handwriting as a skill and a means of communication and personal identification. Never has this concept been more important than now, when the exciting new digital age tricks us into thinking that it would be OK if handwriting were to become obsolete. Here are the just 5 reasons why I disagree: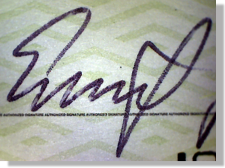 Handwriting as an activity involves more of the human brain than any other activity except for speech. "Use it or lose it....."
For most people, the act of writing is slower than the act of keyboarding. Sometimes it is a good idea to slow things down and consider more carefully what one is communicating.
Let's not lose the ability to communicate more personally - Computers are great, but let's not put all our communication eggs in that one basket.
The act of learning to write plays a special part in the development of young brains, and should not be discarded thoughtlessly.
The skilled handwritten signature is still an excellent method of identifying an individual and a document.